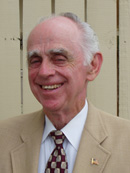 "Every day's a great day!" is a favorite expression of David Martin, the Founder and President of Martin Properties, and sums up his positive outlook and contagious optimism. When David was 13 years old, he built his first house. That house was a chicken house made of scrap lumber and two Tru-Aid Signs! He has been building something constantly ever since, and he is still an Unlimited Licensed General Contractor at the age of 86. He states that he has the best retirement plan in the world: "I retire to bed each night and the Lord renews my strength for another great day!" David has built some sizable buildings but says the most important thing a person can build is Christian relationships with others.
Born in Randolph County, the 90-year-old Martin has lived in Cary, NC since he was nine years old. After graduating from Cary High School, Mr. Martin served a stint in the United States Coast Guard, attended UNC-Chapel Hill, and then returned to Cary to pursue a business career. An early building block of Martin Properties was University Apartments, which Mr. Martin started in 1954 by moving old houses onto a site off Avent Ferry Road in Raleigh, refurbishing them, and adding units to the complex as the years have gone by. In 1961, Mr. Martin designed and built the first swimming pool at an apartment complex in Raleigh and this pool is still in use today! Soon after completing this project, Mr. Martin started planning and then built the first shopping center in Cary, Southland Center which was later changed to South Hills. The first building opened on November 13, 1963. Martin also built Cary's first mall, South Hills, which opened in 1972 and expanded in 1982.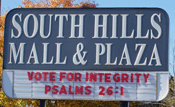 David and Marilyn Broadwell Martin have been married for 64 years. They have 6 children, 21 grandchildren, and 13 great-grandchildren. Mr. Martin still works six days a week in addition to numerous outside activities. He is very active in his church, First Baptist - Cary, NC, having served as a Deacon for several terms. He has served on two boards at Southeastern Baptist Theological Seminary in Wake Forest, NC for over 30 years. He is also a member of The Gideons International and enthusiastically supports their goals of evangelism and Bible distribution. Mr. Martin committed his life to Christ at a young age and has led countless others to make similar commitments.
One of Mr. Martin's favorite Bible verses is Proverbs 29:18: "Where there is no vision, the people perish." Mr. Martin's demonstrable skill as a builder and capacity for hard work is complemented by his God-given vision, including an unusual ability to spot great real estate. The most recent example of this special vision is a plan to build a 62-story office building at the largest interchange in North Carolina, I-40 & U.S. #1 & #64. This plan will help to ensure that Martin Properties enjoys a bright future well into the twenty-first century and beyond.